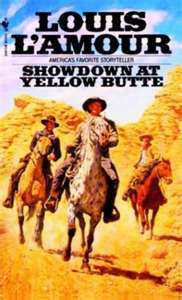 Description
Alton Burwick was itching to make a big land grab at Yellow Butte. But first, he had to drive the tough band of squatters from the range. So he rounded up a bunch of killers for the job, and hired Tom Kedrick to ramrod the crew, never mentioning that they would be fighting innocent men and women. Suddenly Kedrick realized he would have to do something fast - before Burwick's mob turned Yellow Butte into a wasteland.
Gallery
Ad blocker interference detected!
Wikia is a free-to-use site that makes money from advertising. We have a modified experience for viewers using ad blockers

Wikia is not accessible if you've made further modifications. Remove the custom ad blocker rule(s) and the page will load as expected.